Brief introduction of conference rooms
9,000㎡ conference area includes a 3,000 ㎡ column-free floor space with 11 meters in height and nearly 25 different sizes of conference rooms, such as video conference rooms, multi-functional halls and so on. Flexible segmentation of the venue can meet various needs of the international and domestic events.
The conference area is equipped with advanced intellectualized weak current system, such as a conference coordination system, simultaneous interpretation system, long-distant video system, videoing system, microphone system and information releasing system to meet the needs of conference management, simultaneous interpretation, lighting control, discussion, impromptu statement, loud speaking, and video broadcasting.
Pear Hall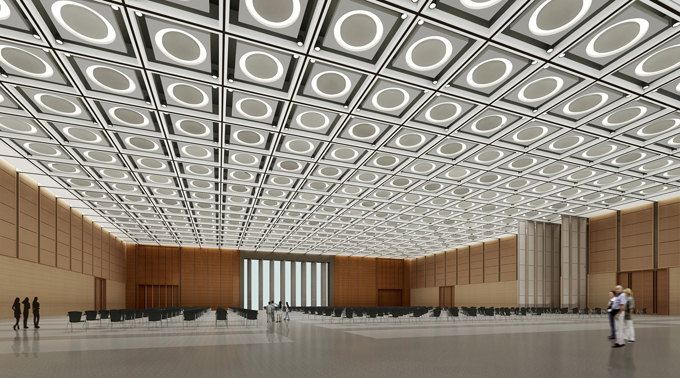 With 11 meters in height, the Hall occupies 3,000㎡ and has a 180°view of the beautiful scenery along Suzhou River, providing guests with a special experience. The large space offers multi functions for banquet, conference and performance.
Conference room rendering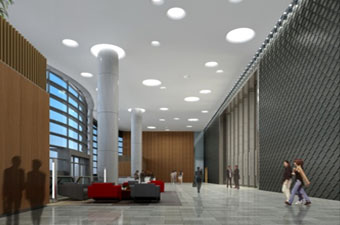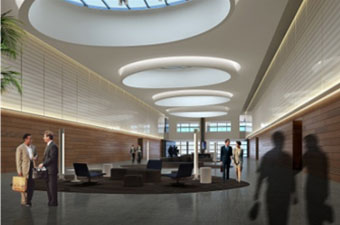 Lobby on the third floor                                    Atrium on the third floor
                                                                      Mlti-functional room 302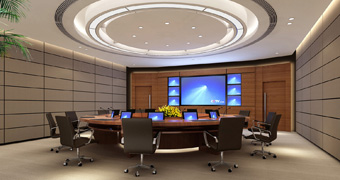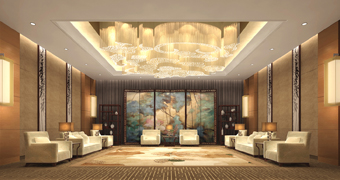 Video conference room                                        304VIP Hall 306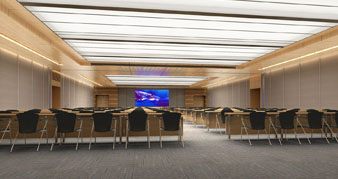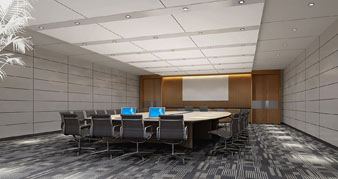 Conference Room 307                                               Conference Room 308
Conference room data
Conference Rooms on 3F

Function Room

Sq.Ft(㎡)

H(m)

Theater

Classroom

U-Shape

Hollow

Reception

Board Room

Banquet(T)

The Pearl Hall 301

3000

11

2975

1785

236

315

3213

315

167

•301A

1575

11

1692

1015

201

243

1828

243

95

•301B+C+D

1425

11

1040

624

185

206

1123

206

58

•301B

325

11

360

216

72

96

388

96

20

•301C

325

11

320

192

69

90

345

90

16

•301D

325

11

360

216

72

96

388

96

20

•301B+C

650

11

680

408

126

150

734

150

38

•301C+D

650

11

680

408

126

150

734

150

38

Multi-functional Room 302

500

7

506

28

99

120

546

120

28

•302A

250

7

280

168

80

60

78

302

15

•302B

250

7

225

135

80

57

72

243

12

VIP Room 303

40

3.2

Sofa

304Video Conference Room 304

80

3.2

12

Conference Room 305

520

3.2

515

309

96

117

556

117

29

•305A

260

3.2

248

149

60

78

268

78

14

•305B

260

3.2

266

160

60

78

268

78

15

VIP Room 306

90

3.2

Sofa

Conference Room 307

200

3.2

176

106

54

66

190

66

9

•307A

100

3.2

88

53

30

36

95

36

5

•307B

100

3.2

88

53

30

36

95

36

5

Conference Room 308

62

3.2

53

32

21

24

57

24

3

Conference Room 310

70

3.2

15
Conference Rooms on 1F, 2F, 3M

Function Room

Sq.Ft(㎡)

H(m)

Theater

Classroom

U-Shape

Hollow

Reception

Board Room

Banquet(T)

VIP Room 101

45

3.2

Sofa

VIP Room 204

28

4

Sofa

VIP Room 205

18

4

Sofa

Conference Room 3M1

224

3.2

225

135

63

78

243

78

12

•3M1A

112

3.2

112

67

39

48

121

48

6

•3M1B

112

3.2

112

67

39

48

121

48

6

Conference Room 3M2

96

3.2

106

64

36

42

115

42

6

Conference Room 3M3

148

3.2

192

115

33

36

207

36

10

Conference Room 3M4

76

3.2

Sofa

Conference Room 3M5

225

3.2

247

148

63

78

267

78

13

•3M5A

112.5

3.2

125

75

39

48

135

48

7

•3M5B

112.5

3.2

125

75

39

48

135

48

7

Conference Room 3M6

76

3.2

67

40

24

30

72

30

3